Jevi

Jevi
Vital statistics
Function
recreation
Status
Sold at the Mall
Jevi is a doll-based toyline sold at The Mall in New Tehktra.
In Jevik? Pt 2, Pete shows off Jevi to his coworker. It's a relatively large brown figure, and could possibly be the in-universe equivalent of BIONICLE.
Katron was seen purchasing a red one at a store in A Very Katron Christmas.
Appearances
Edit
The name is intentionally similar to Jevik.
The doll is a Onewa figure from the minifigure line of the 2005 Bionicle sets.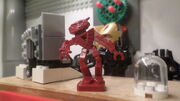 Ad blocker interference detected!
Wikia is a free-to-use site that makes money from advertising. We have a modified experience for viewers using ad blockers

Wikia is not accessible if you've made further modifications. Remove the custom ad blocker rule(s) and the page will load as expected.