Leresh's Apartment

Leresh's apartment as seen in Jevik? Pt 2
Location
Residents
N/A
Use
Residence
Status
Destroyed
Leresh's Apartment was Leresh's place of residence until it was destroyed by Magneon in Jevik? Pt 3.
There were two different bedrooms seen in the house, Yeq's and Jevik's.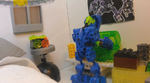 Leresh's kitchen was fully furnished with a table and two chairs, stove, fridge, and a boom box.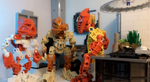 Living Room
Edit
Leresh's living room connected directly to his kitchen. It appeared to have a large TV, a table, and possibly a couch.
Former Residents
Edit
Appearances
Edit
This is the first single apartment in the series to have more than one resident with five residents.
Ad blocker interference detected!
Wikia is a free-to-use site that makes money from advertising. We have a modified experience for viewers using ad blockers

Wikia is not accessible if you've made further modifications. Remove the custom ad blocker rule(s) and the page will load as expected.